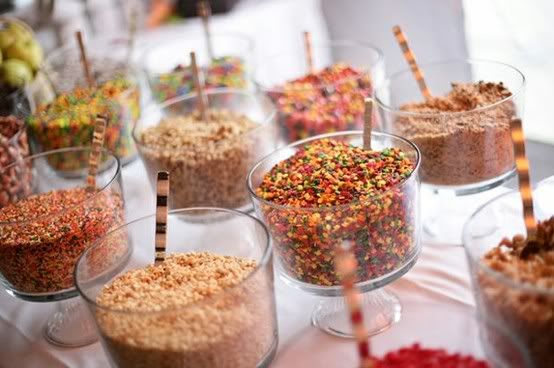 I am dreaming of fall weather and planning fall get togethers in my head. I love entertaining in the fall and the upcoming holiday season! When I stumbled upon this
Candy Apple Bar on Pinterest
, I just knew I had to share with with you! How fun would it be to set up a station where guests can make a candy or caramel apple and top the apples with an assortment of yummy toppings?! Granted though, this would probably be a total mess. Sounds like fun though!
Wow...I have still not adjusted to the new schedule of PreK! Nick has adjusted, but poor momma over here is not used to early mornings, no naps for Nick (which mean no afternoon computer time for me) and being so tired at night, I crawl into bed much earlier than I have ever in my life. BUT, I am loving this new school adventure, meeting new friends and most importantly, seeing Nicklaus love his new school!
Weekly Round Up
This c
lothespin decoupage tutorial on Cake
popped up at the right time for me! This is a small project I have been planning to do for an upcoming party and now I have the perfect DIY instructions to follow.
I have always wanted to 'host' a baby shower by mail.
This recipe shower
(all done through the mail) on
Toast and Laurel
is chic and fun and is a fab idea if you and your friends and family live in many different cities!
Have a great Labor Day weekend!