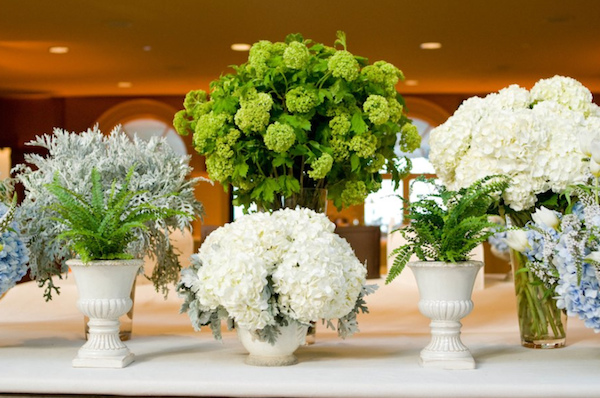 I think it is safe to say that hydrangeas are a favorite of many. This beautiful flower can often be found year round from a florist, but they typically bloom from late spring to summer...so right now! And I bet that many of you mommies will receive some of these beauties this weekend for Mother's Day!
In the current issue of
Southern Living
magazine, there is a small article on how to cut and create a stunning arrangement at home. Here is the step-by-step guide as told by
Southern Living
...
Choose
Look for flowers that have fully opened and feel slightly papery to the touch. They will last longer when cut. Use one bloom color or mix varying shades.
Clip
This pertains to the lucky ons who have hydrangea bushes at home! But if you buy the flowers from a florist, the same technique applies.
Snip stems early in the morning. Cut at an angle, above a leaf bud. Place your stems in a bucket of cool water immediately after cutting.
Condition
Heat a pot of water until almost boiling; remove from heat and wait five minutes. Dip stem emds in hot water for 30 seconds before arranging in cool water.
Create
Show off your display with a rounded container to echo the shape of the blooms. Use moist floral foam to keep the stems in place if needed.